- TPE-331Standby Alternator Drive -
STC'd onto the Cessna 208
One of the most prolific and useful single engine aircraft in today's fleet is the Cessna-208, also known as the Caravan. This high-wing, single-engine turbine workhorse is used by several well known companies, and provides indispensable distribution capability to FedEx.
Some users of this aircraft were dissatisfied with the performance and cost limitations imposed by the Pratt & Whitney-Canada PT6A-114A turbine engine, providing 675 shaft HP to the propeller.
One innovative company (Texas Turbine Conversions) devised an engine replacement which turned this aircraft into a rocket. They replaced the 675 HP PT6A with a less expensive and significantly more powerful 855 HP Honeywell TPE-331-12JB engine and certified the conversion. Texas Turbine Conversions has delivered several of these amazing aircraft into service, with several more ordered and in production.
One of the problems faced in this conversion is the fact that the TPE-331 does not have any provision for a standby alternator, which is required for commercial service in a single-engine aircraft.
Texas Turbines contracted with EPI, Inc. to design and produce a standby alternator drive for the TPE-331 and to produce all the engineering and design documentation required for FAA certification. EPI, Inc also assisted with the design and certification of the new engine mount structure for this conversion.
The picture below shows the confined space available on the accessory drive case of the TPE-331 engine. The anodized rectangular plate in the upper-center of the picture covers the drive pad which was available for the standby alternator drive.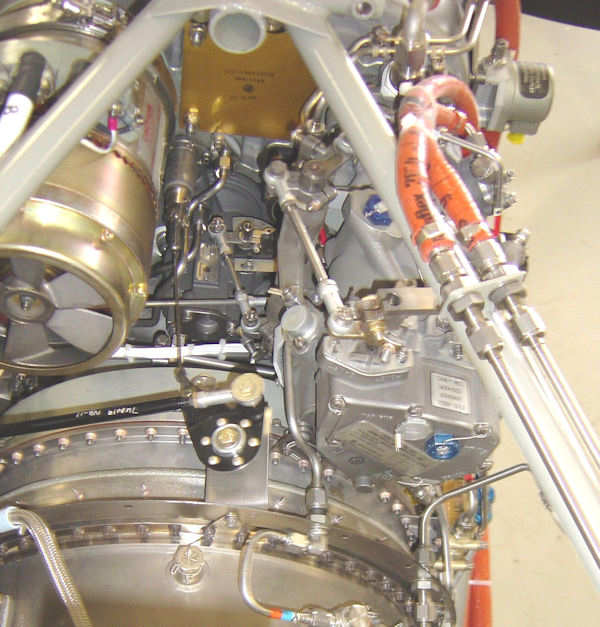 TPE-331 Accessory Drive Pad
The picture below shows the prototype drive system which EPI designed and manufactured to fit into this confined space. The drive is completely isolated from the engine's lubrication system and satisfies all FAA requirements regarding capacity, fatigue resistance, and accessory failsafe provisions.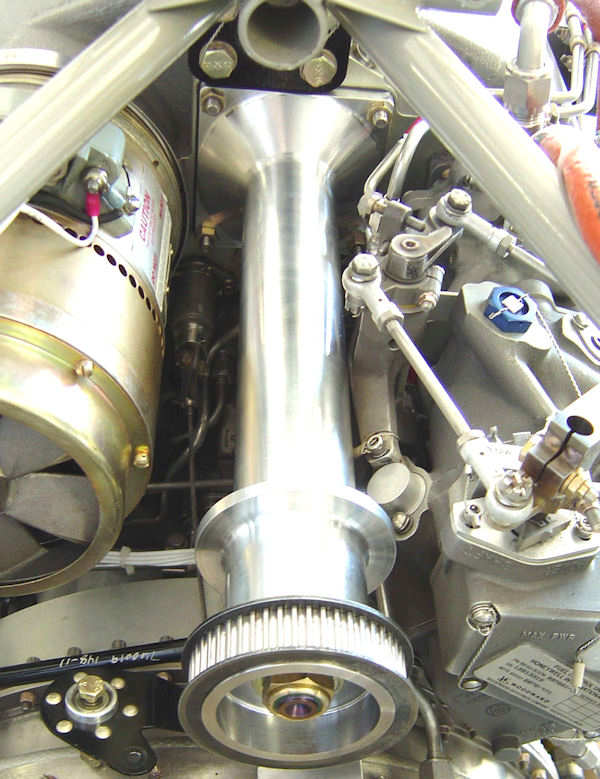 Standby Alternator Drive attached to Engine Drive Pad
The following picture shows the full prototype Standby Alternator System in place on the engine.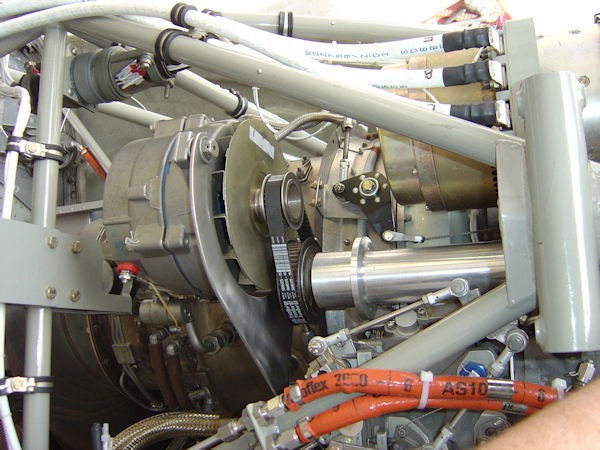 Standby Alternator Drive System Installed
This drive system is currently being expanded to drive the air conditioning compressor in addition to the standby alternator.