- Air Tractor 401 With Orenda V8 -
This Program Achieved an STC
NOTE: All our Products, Designs and Services are ORGANIC, GLUTEN-FREE, CONTAIN NO GMO's, and will not upset anyone's precious FEELINGS or delicate SENSIBILITIES.
Under contract with the conversion STC developer, in 1999, EPI designed and built the prototype engine mount to replace the ancient Pratt & Whitney R-1340 engine in the Air Tractor 401 Ag-plane with the Orenda turbocharged liquid-cooled V8 engine. When the preliminary prototyping work was completed, EPI supported the program with subsequent designs and analysis, as well as writing the FAA Certification Test Plan.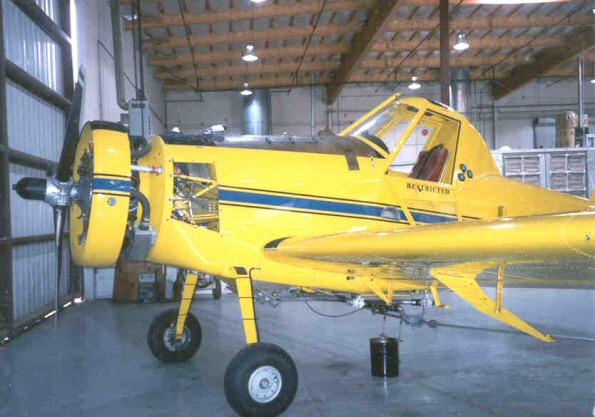 Air Tractor 401 with P&W R-1340 Engine
According to statistics, the average Ag-plane crashes once per year. Consequently, many of the in-service fuselage structures have mount pickup points which are not in the same place as they were when the fuselage left the factory. To accommodate this real-world situation, EPI designed the mount structure with a unique adjustment mechanism which enables the engine mount to accommodate a fuselage on which the pickup points on the firewall are out of place anywhere within a 1/2-inch diameter circle around the correct location.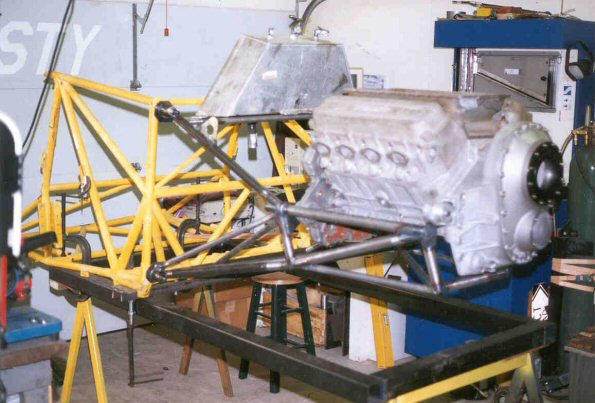 Prototype Mount under construction in EPI shop
In order to minimize certification issues and to maintain the flying qualities of the original aircraft, a major requirement for any engine conversion project is to locate the aircraft empty CG with the new engine in exactly the same place as it was with the one being replaced. Because of the short time schedule planned for this project, it was necessary to design and build the prototype mount before any weights or measurements could be obtained from the actual aircraft.
Without having an actual airplane to measure, we used customer-provided data on the supposed weight and CG of the R-1340 installation.
With the agreement of the project management, EPI built the prototype mount out of mild steel rather than 4130, anticipating the fact that without the exact weight and balance information for the aircraft or for the 401's R-1340 engine installation, it seemed unlikely that the prototype could place the Orenda engine properly to maintain the original empty CG location. As it turned out, the prototype mount established the new empty CG VERY close to the original location.
This prototype mount fit onto the airframe on the first try, and the Orenda engine bolted to it perfectly. That mount was used to determine the placement of critical components including heat exchangers, turbocharger mount, oil tank, plumbing runs, etc. Those placements were made while the newly-designed mount for flight test was being built.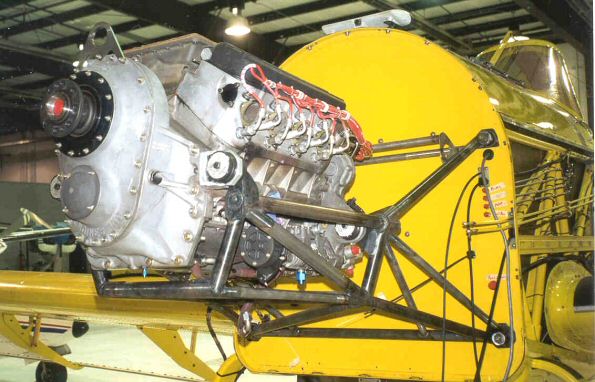 Engine and EPI Prototype Mount on Air Tractor 401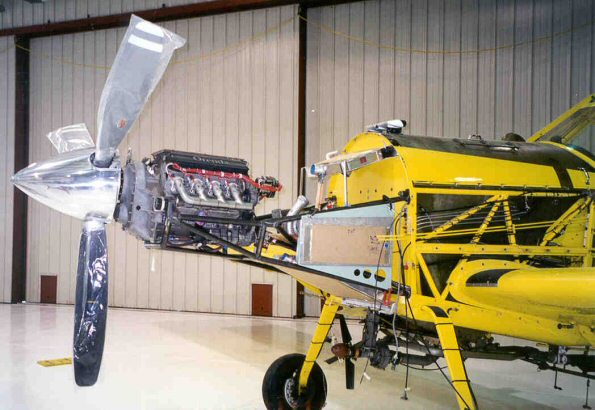 Engine and EPI Prototype Mount with Heat Exchangers and Turbocharger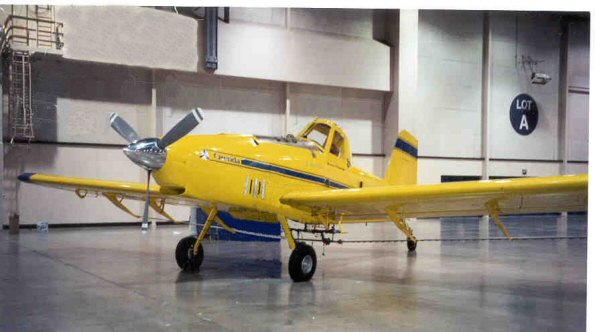 Ready for Test Flight
As a result of increasing concerns about safety-related engineering issues, EPI terminated its involvement with the project before the STC was completed.